Package 5: Gold 1 - 100% Complete
Bona FlexiDrum 8″ Belt Sander
The Bona Flexidrum is ideal for floorboards, hardwood strip flooring, engineered flooring, solid wood flooring, and any flooring where the boards all face the same direction and also for evening our uneven parquet flooring in preparation for a finishing sander (Trio)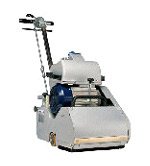 Mainly for domestic use, it can also be used in a commercial environment
It has its own inbuilt dust extraction to minimize any dust that is generated and has its own cloth bag for collection of the sawdust
It will not get fully to the edges or corners so you will need edging, detail sanders or scrapers to cover these areas
It is simple to use and changing the continuous belts is fast and simple
To get a floor ready for finishing you will need to go through grades of sanding belts from coarse to fine
When used correctly you will have a fresh and clean floor
This machine is best used by domestic users who have not any experience as it is the easiest machine to use
7″ Bona Edger/Viking*
Edge sander with short or long nose options
Recommended use: All Floors
This is lightweight, flexible and easy to control. It is an extremely powerful edger and has excellent dust removal. It can be used with holed discs or Velcro-backed discs and has an L-shape design to enable sanding underneath radiators. This is the case unless the radiators are especially close to the floor.
It has an onboard light for better visibility, especially in corners and places with no or poor lighting. It comes with a cloth dust bag.
The sanding method with the 7″ Bona Edger
Sand the edges of the room using the Edging Sander fitted with a sanding disc. To operate the Edge Sander, place the lead over your shoulder and tilt the sander on its castors, so that the disc is clear of the floor before you switch the machine on. Prepare yourself to control the sander, switch it on and lower it to make contact with the floor. On contact, move the sander in a sweeping motion and keep it moving the whole time it's in contact with the floor.
*Edger brand is subject to availability on the day.
Buffer
For those of you who use make up, you could consider the Bona Buffer Small like a kind of magical concealer, that works permanently!
The Buffing Machine is specially designed to remove minor blemishes that can spoil an otherwise flawless floor.
With the aid of this great piece of technology you can apply fast and efficient, instant restoration
It is highly recommended if you wish to smooth away the grain that may rise between each coat of lacquer to make them look as good as new.
Tungsten Scraper
Tungsten scrapers are designed specifically for preparing wood surfaces before and during refinishing operations.
This scraper is vital for preparing corners and hard to reach places.
Duration

Description

 Rate

1 Day Hire
Gold Package 1
£66.00
2 Day Hire
Gold Package 1
£95.00
3 Day Hire
Gold Package 1
£110.00
4 Day Hire
Gold Package 1
£132.00
5 Day Hire
Gold Package 1
£154.00
6 Day Hire
Gold Package 1
£176.00
7 Day Hire
Gold Package 1
£200.00
Weekend Hire
Gold Package 1
£90.00
 
 
 
 

Tungsten Scrapers will be provided with each sander package as an optional extra to prepare the corners and hard-to-reach places.

These will be charged at £10.00 for the scraper and £3.50 each for the blades but are on a sale or return basis i.e if not opened they can be returned without charge but if the scrapers package is opened they will be charged for.

 
 
 
 
 

Please see our terms and conditions below.

All prices are subject to VAT which must be added, the rate is currently 20%.

 
Reserve Your Floor Sander Hire Package
Operation Transformation
We have everything you need to transform your wooden floors wonderfully
The equipment that we provide is of the highest-quality. Choose from our range of more than 100 floor sanders.
Floor Sander Hire London and the United Kingdom
Frequently Asked Quections
Check out some of our answers to common questions
Take a look around
Shop for primers, lacquers & finishes
TERMS & CONDITIONS
Customer Requirements for Hiring A Floor Sander Package
We cannot hire out any machines without the following information which must be provided when we deliver the machine by the customer or their representative:
2. Proof of I.D. Either a driving license or a passport or an item of equal value
3. Proof of address. A current utility bill or bank statement
4. Mobile phone bills or invoices, Letters are not acceptable
5. We also need the vehicle registration document of the transport collecting the machines
6. A deposit by card must be paid when booking the machines for hire, when the customer or their representative signs the hire document it gives us authority to take charges from the card that exceeds the deposit
7. Our driver will deliver the machines to the customers' door, he will help the customer take the machines in and out of the property but that is at the customer's risk
8. Please see delivery prices under the sander package above
There are no exceptions to the above.