Bona FlexiDrum 8″ BeH Sander
Dust free technology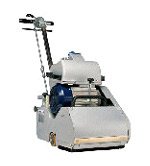 Bona FlexiDrum. The re-engineered Design and the mechanical changing give even more functionality and security. The Bona FlexiDrum is very easy to control and gives excellent results on floors.
Field of application:
For sanding of all kinds of wooden and parquet floors.
New Quick-Lock System, for a safer handling.
Easy to assemble.
New Design.
New Wheels for a better stability.
Excellent dust extraction.
Easy to handle and to transport