Bona FlexiDrum 8″ Belt Sander
The Bona Flexidrum is ideal for floorboards, hardwood strip flooring, engineered flooring, solid wood flooring, and any flooring where the boards all face the same direction and also for evening our uneven parquet flooring in preparation for a finishing sander (Trio)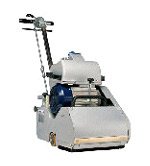 Mainly for domestic use, it can also be used in a commercial environment
It has its own inbuilt dust extraction to minimize any dust that is generated and has its own cloth bag for collection of the sawdust
It will not get fully to the edges or corners so you will need edging, detail sanders or scrapers to cover these areas
It is simple to use and changing the continuous belts is fast and simple
To get a floor ready for finishing you will need to go through grades of sanding belts from coarse to fine
When used correctly you will have a fresh and clean floor
This machine is best used by domestic users who have not any experience as it is the easiest machine to use
How A Customer Used The Bona FlexiDrum 8 ′′ Belt Sander To Spruce Up His Sitting Room
Our customer, who has a sitting room with an unusual shape, chose to embellish it by sanding its wooden floors. They used the Bona FlexiDrum 8 ′′ Belt Sander along with edging machines and scraper to revitalize the floor.
Aside from its eco-friendliness, having a sanded hardwood floor adds an ultra-warm and welcoming character to the sitting room space, in addition to providing an authentic character to the interiors it adorns.
The client chose to sand and lacquer the floor in his sitting room to achieve a clean design and a satin finish, as this is the most visited room in the house and the one where guests are welcomed. A hardwood floor complements any decor, especially natural decorations such as plants, as well as rugs and sofas, and it looks even better if it is well maintained.
This floor sander,  revitalised the floor. The faded floor looked new again and has become a focal point.