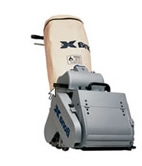 10″ Continuous Belt Sander
Very Heavy Industrial Sander
Recommended use: Commercial Floors
This heavy weight sander is one that we would use on large commercial hardwood floors Only. It has a 10″ wide sanding Drum that needs to be on a totally flat surface for best results. The total weight of this sander is over 75kg with a bigger force when sanding. We supply you with a body harness to help assist when pulling this machine. This Sander really could not be used in residential properties or by the diy customer with no sanding experience because of its sheer size and weight.